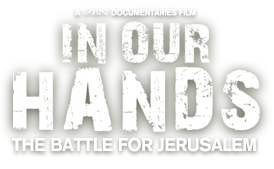 IN OUR HANDS tells the true story of The Battle For Jerusalem during the Six-Day War of 1967. But 50 years later, the biblical city is still in the news.
ENDORSEMENTS
"IN OUR HANDS: The Battle for Jerusalem tells the little-known story of Israeli paratroopers in their prophetic fight to reclaim the city of Jerusalem as the capitol of the covenant nation of Israel. Not only does this movie look back in time, it also casts a beautiful vision for Jerusalem's future, the Eternal City of God. If you love and support the nation of Israel and the Jewish people, I urge you to see this life-changing film."
Pastor John Hagee, Author of Four Blood Moons
"One of the best, most moving films I've seen this year, and a fitting 50-year commemoration of a crucial turning point in world history. IN OUR HANDS is handsomely produced, historically responsible and emotionally satisfying. Archival footage, lovingly crafted re-enactments, and the intimate recollections from the surviving heroes of the liberation of Jerusalem are combined seamlessly and, at times, wondrously. Everyone associated with this unique, unforgettable production deserves praise and gratitude."
Michael Medved, Nationally Syndicated Talk-Radio Host, Bestselling author of The American Miracle
"The battle for Jerusalem was a watershed event in Israel's history. Fifty years after this historic battle,
IN OUR HANDS
provides an outstanding medium to reflect on it. As we do, let us all pray for peace between religions and people in the embattled Holy Land."
Michael Herzog, Brigadier General IDF (Ret.)
"The greatest evidence that the Bible is true and that miracles are for today is Israel! Your faith will explode when you witness the supernatural power of God documented in this film!"
Sid Roth, Host, It's Supernatural!
"The nation of Israel and the city of Jerusalem are prominent in the Word of God. IN OUR HANDS is a powerful documentary about a key battle in the Six-Day War that provides us with a much deeper understanding of God's heart for Zion. Don't miss this one!"
David and Jason Benham, authors of Whatever the Cost and Living Among Lions
"IN OUR HANDS is a deeply satisfying experience from beginning to end. Marrying documentary form to narrative re-enactment, the film takes hold of its audience in its opening moments and never lets go."
Seth M. Siegel, New York Times bestselling author of Let There Be Water
"
IN OUR HANDS: The Battle for Jerusalem
, is perhaps the most articulate, historical, powerful presentation of Israel's successful effort to liberate Jerusalem. This movie offers interviews from those who were there and acting that places the audience in the midst of traumatic battle. Bring a box of tissues."
Joel M. Leyden, Publisher, Israel News Agency
"The Six-Day War like you've never seen it before! I knew the story before, but now I really know it—through the eyes of those who participated it in. Moving, stirring, at times overwhelming, and deeply inspirational."
Dr. Michael L. Brown, Bestselling author and nationally syndicated radio host
"It's a good, solid documentary—well done and informative for anyone concerned about the nation of Israel and the people of God."
Randall Murphree, Editor, AFA Journal